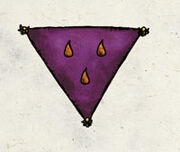 Talona (tah-low-nah) is often depicted as a withered old crone with a scarred, tattooed face in religious texts. She has the personality of a petulant, greedy child trapped in the body of a once-beautiful woman now scarred by horrific disease and ravaged by age. She alternately desires attention at any cost like a small child and becomes aloof like a wounded paramour who has been discarded by her love.
Ad blocker interference detected!
Wikia is a free-to-use site that makes money from advertising. We have a modified experience for viewers using ad blockers

Wikia is not accessible if you've made further modifications. Remove the custom ad blocker rule(s) and the page will load as expected.