Worn by the gurads of Samarach, this armor is mostly composed of stiff leather plates with a thin - mostly cosmetic - veneer of brass. Extensive magic use in the nation has resulted in this armor being granted the ability for mages to wear it and cast spells without ill effects.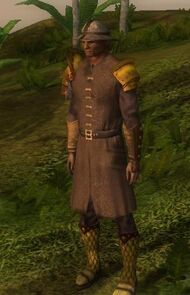 Base Armor Class: 3
Max Dexterity Bonus: 5
Armor Check Penalty: 0
Arcane Spell Failure: 15%
Feats Requires: Light Armor
Base Item: Armor
Weight: 20.0 pound(s)
Special Properties:
​Arcane Spell Failure: -15%
Ad blocker interference detected!
Wikia is a free-to-use site that makes money from advertising. We have a modified experience for viewers using ad blockers

Wikia is not accessible if you've made further modifications. Remove the custom ad blocker rule(s) and the page will load as expected.