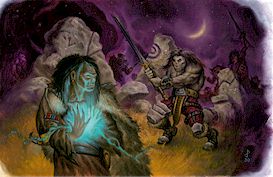 Gray orc is a race introduced with Storm of Zehir.
The orcs of the eastern lands are concentrated in the Moonsea and Endless Wastes today, with a much smaller number scattered through the various lands that lie between. A gray orc looks less bestial than their more savage northern kin, but is still obviously nonhuman. Grey orcs are more apt to wear "civilized" clothing than mountain orcs, though they typically follow a nomadic existence - dwelling in remote, desolate places and eking out a meager existence as best they can. The true power behind a tribe of gray orcs is not the chieftain, but the tribe's high priest, typically an adept or a cleric (often female), who has held the position for many years. The gray orcs are zealots, and the word of their tribal clerics is law.
Gray orcs are just as mean, savage, and barbaric as their northern cousins, but they lack the mountain orc's drive to conquer and enslave. Gray orcs are quite likely to react suddenly and irrationally to events, trusting their heart and instincts more readily than logic. When presented with an opportunity to attack a hated rival, a gray orc doesn't hesitate to attack even having been brutally defeated dozens of times before by the same enemy.
Racial Traits
Edit
Ad blocker interference detected!
Wikia is a free-to-use site that makes money from advertising. We have a modified experience for viewers using ad blockers

Wikia is not accessible if you've made further modifications. Remove the custom ad blocker rule(s) and the page will load as expected.