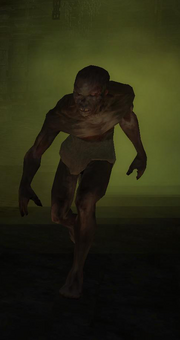 "This foul creature appears more or less humanoid, but has mottled, decaying flesh drawn tight across clearly visible bones. It is mostly hairless and has a carnivore's sharp teeth. Its eyes burn like hot coals in their sunken sockets."
More deadly and cunning than their lesser kin, the Ghoul. Ghasts have a particularly noxious stench.
Undead 4
Usually chaotic evil
Immunity to disease, critical hits, death magic, level/ability drain, mind-affecting spells, paralysis, Poison, sneak attacks
Turn resistance 2
Ghast Stench at caster level 4 (decreases STR, CON, and DEX by 4 for d4+1 rounds, DC15 Fortitude save against poison or immunity to ability decrease / immunity to poison negate). If targets are immune to poison, saving throws are still attempted and targets will enter combat mode (bug), but even if failed, the penalties are not applied.
Ad blocker interference detected!
Wikia is a free-to-use site that makes money from advertising. We have a modified experience for viewers using ad blockers

Wikia is not accessible if you've made further modifications. Remove the custom ad blocker rule(s) and the page will load as expected.