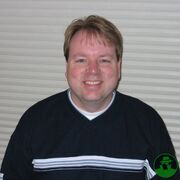 Feargus Urquhart is President and Chief Executive Officer of Obsidian Entertainment.
Feargus founded Black Isle Studios as an internal development studio of Interplay Entertainment in 1996 after working at Interplay Entertainment in various positions starting in 1991. Through the management of both externally and internally developed products, Black Isle Studios earned retail revenue in excess of $250M in his seven years of leading the division. Feargus' name can be found in the credits of over fifty published products. In a review of one of Feargus' products it was said by the web site Electric Playground, "I think they misspelled Feargus Urquhart's name in the Baldur's Gate: Dark Alliance user manual. It should be spelled M-I-D-A-S. Everything that the man and his Black Isle Studios touch turns to gold."
External links
Edit
Ad blocker interference detected!
Wikia is a free-to-use site that makes money from advertising. We have a modified experience for viewers using ad blockers

Wikia is not accessible if you've made further modifications. Remove the custom ad blocker rule(s) and the page will load as expected.