Blade golem
Talk

6
3,772pages on
this wiki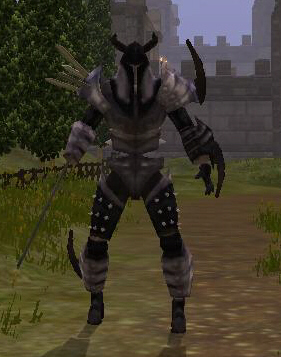 When you first encounter the blade golem, it is attacking several Githyanki in a house in the Back Alley section of Neverwinter. The next time you see it is in the basement of Crossroad Keep. If you play your cards right, you can get this terrifying blend of magic and machinery to join your party.
---
Reconstructing the Blade Golem
Edit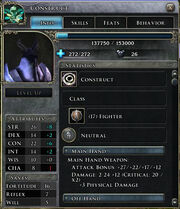 You will need four things to reconstruct the blade golem:
(1) A book on golem crafting, a copy of which can be found in the library of the Keep.
(2) Glowing ink, which requires you to take Grobnar with you to the cave below the well in Ember. If you go into the room where the glowstone is (or was, if you have already completed the trial), Grobnar will spot the water in the pool and collect some for later.
(3) A sample of Illefarn runes, which can be found in the Ruins of Arvahn during the Ritual of Purification.
Once you have all these items, talk to Grobnar in the basement of Crossroad Keep, and he will reconstruct the blade golem for you, after which it can join your party.
It is possible to activate the construct without the liquid and may be possible without either of the other components.