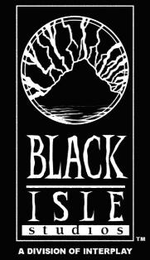 Black Isle Studios was a division of the electronic entertainment company Interplay Entertainment that specialized in the creation of computer role-playing games. It was based in Los Angeles, California, USA. Black Isle was founded in 1998. The idea for its name came from the Black Isle in founder Feargus Urquhart's native country, Scotland. The company is most famous for working on the Fallout and Baldur's Gate series of CRPGs, though it only published Baldur's Gate.
On December 8, 2003, Interplay laid off Black Isle's entire staff. Interplay has neither explained the move nor clarified what the future holds for Black Isle. Many former Black Isle employees now work at Obsidian Entertainment, a video game development company responsbile for Neverwinter Nights 2.
External links
Edit
Ad blocker interference detected!
Wikia is a free-to-use site that makes money from advertising. We have a modified experience for viewers using ad blockers

Wikia is not accessible if you've made further modifications. Remove the custom ad blocker rule(s) and the page will load as expected.